The 7 Best Sensory Toys for Babies and Toddlers 2022
Sensory play helps your little ones explore and learn about the world around them. Sensory toys are beneficial for all ages and abilities, which will encourage the development of their five senses in a fun way. You can use sensory toys to stimulate creativity, attune gross motor skills, and increase participation and turn-taking. The key is to analyze each toy's properties and find the one that best matches your child's interests.
Sensory toys must be safe, non-toxic, age-appropriate, and always enjoyed under caregiver supervision. We've rounded up 7 Hahaland best sensory toys for babies & toddlers in 2022 to help you decide what experience will best suit your child.
OUR TOP PICKS:
Cloth Crinkle Soft Books
Touch Feel Baby First Books
$19.99 AT AMAZON

Baby Teether Toys Balls
With 4 different textured surfaces
$9.99 AT AMAZON

Rattle Teething Toys Set
Various Shapes and Sizes
$18.39 AT AMAZON

High Contrast Baby Books
Sensory Car Seat Stroller Toys
$14.99 AT AMAZON

Baby Sensory Balls
Sensory Car Seat Stroller Toys

$14.99 AT AMAZON

Visual Stimulation Cards
Newborn Tummy Time Toys

$14.39 AT AMAZON

Silicone Pull String Toys
Montessori Baby Sensory Toys
$17.99 AT AMAZON
Here are more about Hahaland Best sensory toys for babies and toddlers.
Cloth Crinkle Soft Books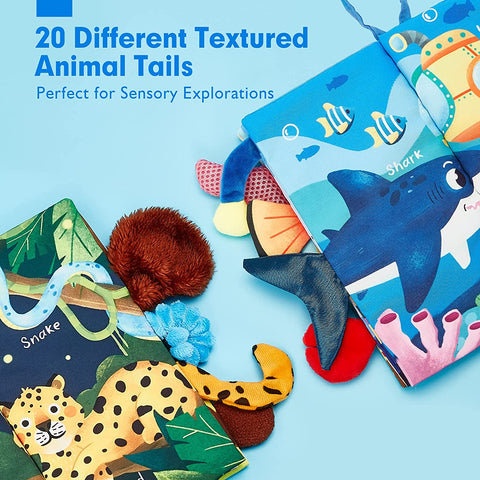 The baby cloth book provides plenty of touch-and-feel fun for matching their 3D tails with 20 Different Textures, keep baby productively engaged and perfect for sensory explorations. This set come with 2 crinkle books, one is jungle tails, the other is Marine life. The soft and plushy pages make a rustling or squeaky sound when overturned.

Baby Teether Toys Balls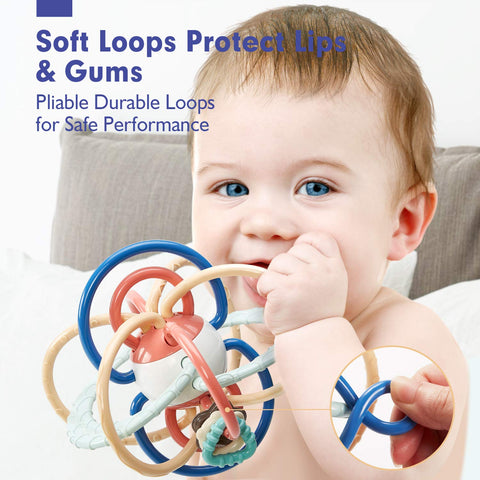 The baby teething toys have 4 different textured surfaces to massage gums which are more effectively soothes teething pain & satisfy baby needs in oral stage. The maze loop design and its fashion colors capture baby's attention to play, which enlighten baby's visual development & aesthetic sense.

Rattle Teething Toys Set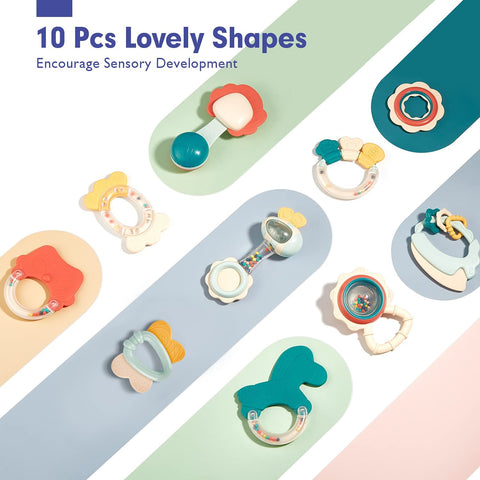 About 3 months, babies start to explore their surroundings with hands, reach out, swat at, and grasp for a favorite toy. This rattle teether 10pcs set features multiple easy grip handles for giving baby plenty of holding spots, lovely shapes appeal to them and perfect size for little hands to grab and shake.

High Contrast Baby Books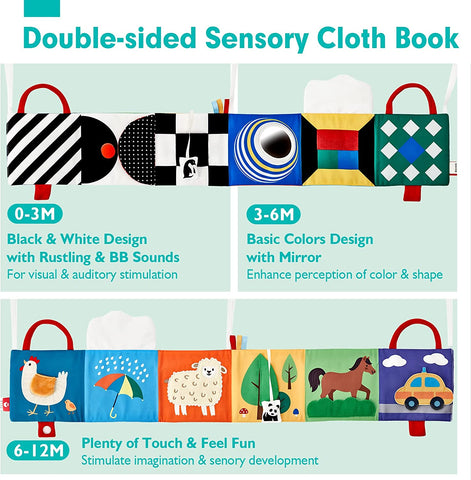 Built-in crinkle paper, BB device, baby mirror, and has plenty of textured pages and moveable parts, which gets baby's attention, provide them endless activity fun and sensory exploration. This soft book features double-sided in pattern and color design, with high contrast patterns on one side.

Baby Sensory Balls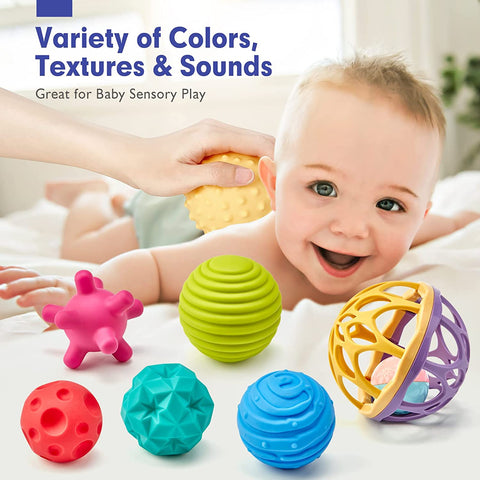 This sensory ball set comes with 6 pieces baby sensory balls and one premium baby rattle - different shapes and sizes. Sensory play should be encouraged from an early age, it will support language development, cognitive growth, fine and gross motor skills, problem solving skills, and social interaction also great for calming an anxious or frustrated.

Visual Stimulation Cards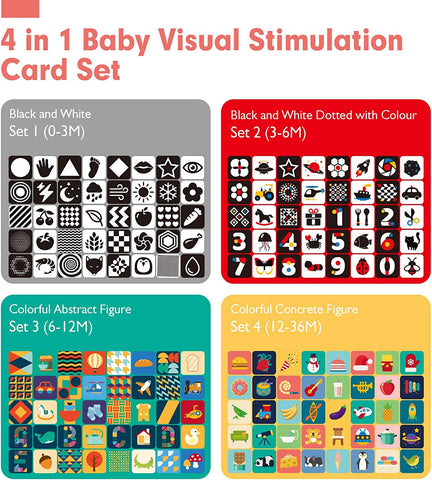 High contrast images, especially black and white images are ideal for visual stimulation, you can introduce flashcards into their everyday routine to develop the right brain memory of them and making learning a fun part of everyday play. These are great gifts and montessori toys for babies 0-6-12-36 months.

Silicone Pull String Toys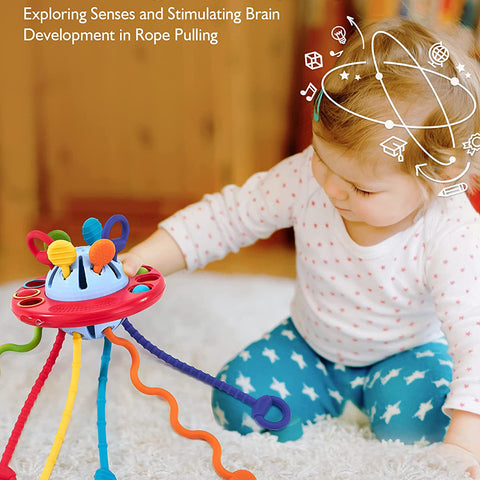 There are 6 brightly colored cords with different textures and difficulty of pulling, some are easy to pull, the others are more challenging. Pull the cords from side to side to hear and feel the various vibrations and sounds the cords make, which is great for tactile development and will strengthen fine and gross motor skills and improve hand eye coordination.