The Best Sippy Cup That Your Kids Love To Drink From
It's all about transitions in your baby's first year, such as breast to bottle, milk to solids, and sitting to crawling to walking. The biggest transition is that your child needs to transition into using a
sippy cup
or a
straw cup
, whether he's been breastfed or bottle-fed. Making the transition from bottle or breast to a proper cup can be a challenge for a lot of little ones. It's a bittersweet milestone for your baby.
It can feel like a hard-to-swallow reminder that your baby is growing. Some parents worry that sippy cups pose a threat to their child's development. There's a lot of information and opinions floating around! It's recommended by many professionals - using Sippy cups for toddler in moderation, if at all, because of the way they can affect children's teeth, swallowing patterns, and speech development. Read our guide for transitioning to sippy cups, then check out our round-up of the best option on the market today.
When Should a baby use a
sippy cup

?

The bottle stage is one of the sweetest times of your life with your child. But, let's be honest, Your baby probably won't be able to hold a cup or drink solo without spilling until after age 1, but let them start practicing earlier. The ideal time to introduce a sippy cup—whether with a straw, spouted, or spoutless—is typically around 6 months old, when they start solids. They will be having a lot of new sensory, motor, and cognitive experiences when they're first eating, so it may be best to wait a week or two before adding the cup.

But don't overuse of sippy cups. "Dentists, pediatricians, speech therapists, and occupational therapists all agree that sippy cups serve more to keep parents' floors clean than as an actual necessary part of child development," says Melissa Foster. The reasoning behind this is to prevent tooth decay that can occur when children's teeth are are exposed to milk sugars for long periods of time.
Tips for introducing your baby to a
sippy cup

There may be a few hiccups along the way when it comes to getting your child used to the sippy cup. Here are some expert-approved tips to help bridge the gap between the breast or bottle and cup.

1. Start as early as possible.
Most people don't think about it, you can introduce a straw cup or sippy cup as early as six months of age (or even earlier if you and baby will be apart for a feeding and baby is not interested in the bottle). There are some potential benefits to using a baby sippy cup early. Sippy cups can keep children hydrated in a spill-proof fashion, without requiring an enormous amount of clean-up. They can help kids understand their own thirst and help children understand different situations or to simply develop drinking skills. 
2. Offer an empty cups and let them play with it
First, offer an empty cup and let your baby explore and play with it, get familiar with it. You might want to restrict sippy cup training to when they're in their high chair or feeding booster seat but keep doing this and explaining that they're going to start drinking from the cups for several days before you put liquid in it. 
3. Try different liquid
You can give them expressed breastmilk and water if older than 6 months (or juice and whole milk if they're over 12 months). If you choose to offer juice, water it down to manage the amount of sugar you are giving baby.
4. Teach them to sip and expect messes
It can be a bit messy in the first few times your baby drinks from the cup. Before giving them a cup with water, breast milk and formula, make sure your child is seated. Prepare for the drooling and dripping. Hold the cup up to their mouth and tilt it slowly so a little liquid dribbles in. Give your child time to swallow before offering more. Don't force your child to take more than they want, since you don't want to turn this into a power struggle.
5. Try out & make the cups appealing
Although there are tons of baby cups to choose from—hard- and soft-spout sippies, and those with a straw - you never know till your child show their preference. For example, some babies prefer cups with handles (especially those who like to hold their own bottle) but others do not. There's also some tips to make the cups appealing. Making the cups appealing is a good way. If you've been bottlefeeding, an easy way to do this is using the bottle for water only and saving the good stuff for the sippy cup. You can also show them that it's fun: Take a sip from a small cup and say, "Mmm, yummy!" Your baby may just want some too.

When choosing a sippy cup for a baby or toddler, there're so many factors to consider in making the best decision. Do not stress too much about this. We've got your back! It's usually smarter - and cleaner - to choose a sippy cup designed for the transitional phase. 
Below is what we considered when choosing sippy cups for your baby or toddler.
1. Material comes first. - The top options include stainless steel, glass, silicone, and BPA-free plastic as they hold up and don't have concerns about releasing potentially harmful particles into the liquids within the cups.
Here's introducing Hahaland Sippy cups with with Spout & Straw which is rated top #1 by over 150,000 parents. 1/4 parents get more than 1 Hahaland spillproof sippy cup. It is made of ultra-durable TRITAN material that is BPA-free, non-toxic, which is very healthy for the baby to use. Both spout and straw are made of food-grade soft flex silicone, which is proof to bite and pull, flexible and does not hurt the baby's mouth and emerging teeth, and will help the baby's gums growing.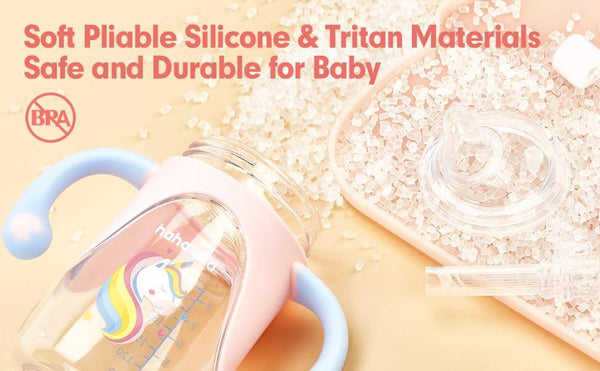 2. Decide if you want a straw, spout, or regular open cup. - Many feeding and speech therapists recommend open cups and straw cups, but open cups can be messier and harder to use on the go. Some straw cups are hard to clean. There are many options that take these challenges into consideration on the market now though.
Hahaland Transitions Straw Cup have weighted straw, ergonomic handle, 2 types of pacifiers of cup (The soft spout for beginners 6-12 months, the straw cups for 8m+ babies) The snap-on cap keeps spout clean when not in use and on the go. All parts lift out easily for steam or water boiling and can be washed in the dishwasher(time less than 1 minute).
3. Choose the one 100% Leak-proof & Anti-choking. - When the baby learns to give up bottle that's sure to result in ample spills in the meantime — which is where sippy cups come in. Compared to traditional drinking cups, Hahaland sippy cup is designed with V-type, valve cover and water seal ring, will form a sealed state and shut off the flow if the cup is dropped, effectively prevent leaks and avoiding mess, parents don't need to worry for their kids choking. The spout also features a built-in air vent to help ensure your baby swallows liquid, not air.
4. Consider the longevity of the cup.  - Some of the stainless and glass cups are more expensive upfront, but they also tend to last for years. Chances are that unless you lose it, you'll have a stainless or glass cup for the duration of your toddler's childhood. While In general, we recommend changing the spout or top on your baby's bottle or sippy cup every 3 months.
If you prefer cups of BPA-free plastic, this one's a keeper - Hahaland spill-proof sippy cups. This toddler sippy cups with straw are highly broken proof that can withstand being tossed from a high chair or stroller.