Disocver Some Fun Spring Activities For Kids
After a long dark, cold winter, spring is approaching. Even if you can't get enough of staying home, spring is the one season that will make you rethink that. It is time to make a plan as to how you are going to enjoy this refreshed, renewed season.
Looking for some fun spring activities to do with the whole family may not be easy. It's difficult to please everyone in your family and friend group. Perhaps one of your children is all about group activities, while another prefers to play solo. We've listed some popular and fun activities which are full of free and low-cost ideas, where you will find the best one to have the whole family and friends to enjoy.
SPRING OUTDOOR ACTIVITIES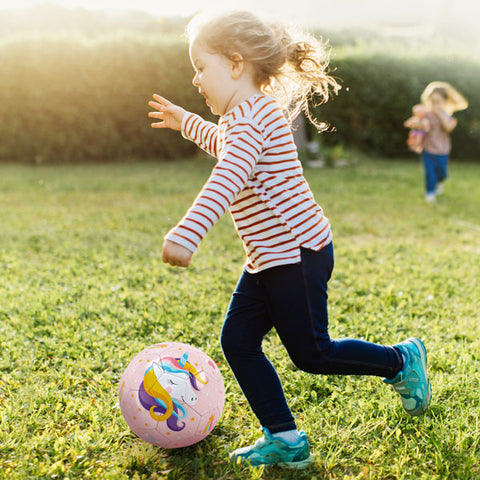 Skills:
Gross Motor Skills, Hand-Eye Coordination, and Creativity
Take out a ball, find an open field (in your backyard or a park) to kick, toss or throw the ball with your child. Not only will you have fun, but the time spent in the fresh, spring air will be good for everyone.
Getting a durable, size-appropriate, and attractive ball is important to raise kids' interest in this activity. Your child might want to start up an impromptu game of soccer with the family or make up a game of their own.
2. Blow bubbles

Skills: Sensory Processing, Fine Motor Skills
A must-have activity in spring that is loved by almost all kids. Little bubble or big bubble. Go buy some bubbles at your favorite dollar store and here are the easy recipes for making your own at home.
3. Fly a kite
Skills: Running, Throwing, and Learning About Wind Science
Spring weather can be windy! It's the perfect time to learn about wind science by playing with a kite, flag, or streamers. Choose the one that's your kids' favorite in the shops or you can even make your own.
4. Go hiking
Skills: Mindfulness, Nature Science, Hand-eye Coordination
What better way to explore the fresh outdoors than to go on a hike through a forest or trail? Spring offers amazing landscapes with the flowers and the returning greenery, though in some destinations there may still be some snow lingering! But, because of the freshness and "coming back to life" after winter hibernation, spring is the best opportunity to find new trials. Your kids would love to search for the signs of spring, using all their senses to find spring while hiking.
5. Have a picnic
Skills: Healthy Eating
Enjoying a spring picnic outside with your child will make a day out of it. Put together a basket of strawberry shortcake, your freshly picked strawberries or blueberries, and/or whatever else that you like to be in your perfect picnic, plus a blanket, and find the perfect spot at the park to lay down and enjoy some warm but cool spring weather along with delicious healthy snacks and fresh nature.
6. Make a backyard pool
Skills: Sensory Processing, Fine Motor Skills
If you happen to live somewhere that gets extra warm in the spring, consider setting up some backyard water activities this season. A Self-inflating pool in your backyard would absolutely entertain your kids, even you.
7. Go to the beach

Skills: Sensory Processing, Hand-eye Coordination
Pack the kids and a cooler full of goodies in the car and head over to the nearest beach. Enjoy a fun-filled day of sand and much-needed sunshine.
8. Plant seeds together
9. Go for a bike ride
10. Go Kayaking
...

SPRING ACTIVITIES AT HOME
1. Baking something together
Skills: Hand-eye Coordination, Cooperation, and Problem-solving Skills
Sometimes there's no better spring day than opening all the windows, blasting your favorite music, and whipping out the flour, butter, and sugar to bake some delicious treats. Baking a seasonal pie would be a perfect idea. From apricot to cherry, there are a lot of excellent recipes for seasonal pies for the spring season.
2. Paint on the finger painting books
Skills: Develop Imagination and Creativity
This is a great activity that will keep your kids busy but with no mess. With the colorful painting books, kids could use their fingers to draw anything from birds to baboons, butterflies to buffalo, and any other items or animals they find in spring. Washable paint for children is safe and avoid me.ss
3. Read a spring book
Skills: Reading
There are many wonderful books about spring for children. Explore your bookshelf for books on this theme, search your local library's e-book collection, or treat your child to a new book, with some yummy snacks for a yummy spring afternoon.
4. Make wind chimes
Skills: Hand-eye Coordination, Problem-solving Skills, Creativity, Imagination
Wind chimes are a fun addition to a freshly planted spring garden, and this wind chime kit means the whole family can have fun putting them together and choosing where to hang them.
5. Go to an Easter egg hunt (If You Celebrate)
Skills: Problem-Solving, Sensory Processing, Hand-Eye Coordination
If you celebrate Easter, find an Easter egg hunt (outdoor or host one at home) to participate in with the whole family. If that's not an option, choose a few other Easter crafts and activities to do at home.
6. Have a family board game night
SKills: Thinking and Problem-solving Skills
Spring nights can still be pretty chilly, so why not host a family board game night with hot chocolate or even build hot chocolate charcuterie boards? (Yes, this is a thing.) You could easily adapt the games to include younger children with help. We are all for family games that bring everyone together.
Isn't it nice when spring comes around? Gone is snow and cold, replaced by weather that gradually gets warmer. Though we may not have thought of spring as something special before, there are actually so many incredible spring activities for all of us to dive into. We hope that this spring activity lfamilyist can bring a lot of joy to you and your little one even the whole families.

SHOP SOME SPRING SALE COLLECTION
>> Musical  Bubble Camera
>> Size 3/4 Soccer Balls 
>> Inflatable Swimming Pool
>> Beach Sand Toy Set
>> Finger Painting Kit
>> Easter Egg Painting Kit